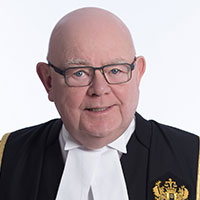 The Honourable Sean J. Harrington

Born in Montréal, Québec, Canada. Educated at Loyola College of University of Montreal and McGill University Law School. Called to the Québec Bar in 1969 and the Law Society of Upper Canada in 1978. Partner with Borden Ladner Gervais LLP, Past President of the Canadian Maritime Law Association, Past Chairman of the Association of Average Adjusters of Canada, Past Treasurer of the Bar of Montreal, Past Vice President of the Association of Maritime Arbitrators of Canada. Appointed Judge of the Federal Court and ex officio member of the Federal Court of Appeal,16th September, 2003. Appointed as a Judge of the Court Martial Appeal Court of Canada on 23rd March, 2004. Appointed Member of the Public Servants Disclosure Protection Tribunal Canada from 2011 to 2015.
Since retiring in 2019, Justice Harrington has rejoined Borden Ladner Gervais LLP as Senior Counsel.