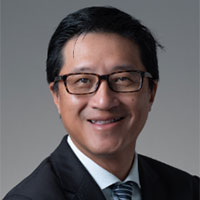 Leong Kah Wah
Leong Kah Wah specialises in Shipping & International Trade and has appeared as lead counsel in landmark Court of Appeal judgments of the STX Mumbai and the Bunga Melati 5. He was recently appointed Senior Accredited Specialist for this practice area by the Singapore Academy of Law.
Kah Wah is ranked in Band 1 in Chambers and "is widely viewed as a prominent litigator in the market." In Legal 500 Asia Pacific, he is acknowledged as a leading individual and is described as "an outstanding and experienced wet shipping lawyer and a good advocate who proposes solutions rather than disagreeing with opposing counsel for the sake of it."
Besides Shipping & International Trade, he has extensive experience in handling commercial disputes in Court litigation, arbitration, and mediation. His perspective on commercial disputes is highly sought after as his expertise is developed from his regular appointments as counsel, arbitrator and mediator on diverse commercial areas and industries. He is most comfortable arguing from first principles, as can be seen from his win in Re: Attilan Group Ltd [2018] 3 SLR 898, where the Singapore High Court agreed with his arguments in a green field area on the requirements of super priority financing in a scheme of arrangement. His acute sense of commercial fairness can also be seen in the published decisions he has delivered on tribunals constituted by the Income Tax Board of Review to hear and decide tax appeals.
Kah Wah is deservedly ranked as one of the world's most prominent shipping lawyers by Who's Who Legal: Transport 2021, as well as acknowledged as ALB's Super 50 Disputes Lawyers 2021. He is also recognised as a 'Distinguished Practitioner' by Asialaw Leading Lawyers 2022 and a 'Litigation Star' by Benchmark Litigation Asia-Pacific 2021