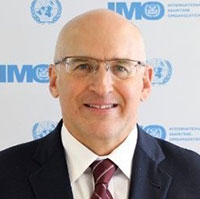 Fred Kenney
Mr. Kenney is Director of Legal and External Affairs at the Londonbased International Maritime Organization (IMO), the United Nations specialized agency with responsibility for regulating the global shipping industry.
He is responsible for advising the IMO SecretaryGeneral on all legal issues associated with the functioning of IMO, with special emphasis on matters of treaty law and the law of the sea; provides legal counsel to staff supporting IMO's committees and subcommittees and has particular responsibility as Secretary for the Organization's Legal Committee. He oversees IMO's role as depositary for the 53 multilateral conventions adopted under its aegis.
Prior to joining the IMO Secretariat in 2014, Mr. Kenney served as The Judge Advocate General and Chief Counsel of the United States Coast Guard, attaining the rank of Rear Admiral. He also served as the Coast Guard's Chief of Maritime and International Law and was seconded to the US Department of State in the Office of Oceans Affairs. Mr. Kenney served on a polar icebreaker and conducted law enforcement and security operations during nearly five years at sea. Mr. Kenney also served as a judge on the Coast Guard Court of Criminal Appeals.
Mr. Kenney holds a juris doctor from the University of San Francisco School of Law and a B.A. in Economics from Michigan State University. Mr. Kenney has published several law review articles, has lectured widely, and was an adjunct professor of maritime law at Georgetown University Law Center and the US Defense Institute for International Legal Studies. He currently is a visiting lecturer at the World Maritime University in Malmo Sweden and the International Maritime Law Institute in Malta.