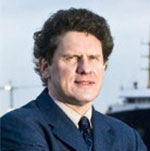 Dr Eric Van Hooydonk
Prof Dr Eric Van Hooydonk is a professor of law at the Maritime Institute of the University of Ghent, Belgium, and an attorney-at-law in Antwerp, Belgium.
Eric's main areas of practice and research fields include: international law of the sea, EU and national maritime and seaport law, as well as the law of public undertakings, together with public-private partnerships. His preferred subjects are maritime regulation in all its aspects and the law of seaports in a broad sense.
His doctoral thesis (1994) offered an in-depth analysis of the legal aspects of port management.
From 2000 to 2010, Eric chaired the European Institute of Maritime and Transport Law of the University of Antwerp, during which time numerous papers and books were published and successful events were organised.
In 2007, he was appointed Chairman of the Royal Commission for the Reform of Belgian Maritime Law, which, on his initiative, prepared a new Shipping Code for Belgium.
In 2009, he founded Portius, the world's first ever international and EU port law centre, which is hosted by the University of Ghent and the College of Europe at Bruges, Belgium, and Natolin (Warsaw), Poland.
In 2014, Eric was appointed Chairman of an International Working Group of the Comité Maritime International, which prepares a restatement of the general principles of the maritime law or Lex Maritima.
Eric is a Titulary Member of the Comité Maritime International (CMI) and a member of several professional and scientific associations as well as the editorial boards of legal reviews in various countries.
Since 1995, Eric has run a niche law firm in Antwerp, which handles major contentious and non-contentious cases for institutional clients including those in countries both within and outside the European Union. Also, he has been acting as a legal consultant in Southeast Asia since 1999.
Antwerp, Eric's home base, is Europe's second biggest seaport. The University of Ghent, Belgium's second biggest university, is located in a major port city as well.
As a recognised expert in port affairs, Eric has joined the Board of Directors of the port authority of Ostend, Belgium, and is regularly asked to advise on port heritage and culture and port city-related urban planning at home and abroad.
In the coming years, Eric wishes to focus on international and European seaport law and on the restatement of the 'Lex Maritima', the 'Lex Mercatoria' for maritime affairs.