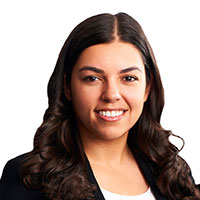 Andrea Fernandes
Andrea is an experienced and versatile senior lawyer specializing in maritime and transportation matters. She has represented clients in the courts of many Canadian jurisdictions including Ontario, British Columbia, Alberta, Saskatchewan, Nova Scotia, PEI, and in the Federal Court.
Andrea is involved in all aspects of transportation law including, marine, trucking, freight forwarding, rail, and warehousing. She has experience in dealing with cargo disputes, property damage and casualty matters, collisions, limitation of liability proceedings, contract disputes, and vessel arrests.
Andrea also has considerable experience in insurance coverage and defence matters as well as general commercial litigation.